Low Cost Personalised Clothing Sussex
Chameleon Designs are one of Sussex's leading suppliers of personalised clothing. With years of experience providing personalised clothing, workwear and staff uniforms to businesses, schools, organisations and clubs in and around East Sussex, Brighton & Eastbourne. We provide the most comprehensive range of custom clothing, personalised clothing & workwear in Sussex with 100s of leading brands from the industries leading suppliers. We have been helping businesses across Sussex, Hailsham, Uckfield, Eastbourne & Brighton transform their image with high quality personalised clothing at very affordable prices. Chameleon Designs have an experienced in house team who help a number of businesses with their staff uniform & requirements, we have the skills, knowledge & expertise when it comes to kitting your business out with personalised clothing - whatever the budget, whatever the requirement our team will have the solution. We offer the slickest service possible online in Sussex with our simple to use online ordering, simply select your garment, add your branding, checkout and sit back while our expert team work closely with you to bring you high quality personalised clothing straight to your door in 7-10 working days. Here at Chameleon Designs we have a commitment to ensuring we provide the highest quality service both online & instore, we are the go to place for personalised clothing for businesses, schools and more in Sussex... so whatever you are after, don't hesitate to get in touch today.
WE ALWAYS SEND DIGITAL ARTWORK FOR YOUR APPROVAL BEFORE GOING AHEAD WITH ANY ORDER
Affordable Custom Clothing Sussex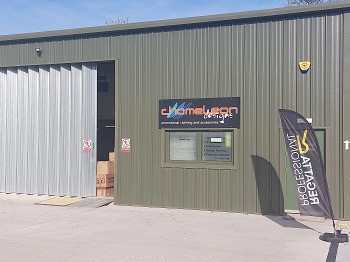 Chameleon Designs offers expert printing and embroidery services to a wide variety of customers across Sussex. With huge experience dealing with a number of clients from a number of backgrounds for a significant period of time we have developed a reputation as one of Sussex's leading print & embroidery businesses. We strive to deliver our customers quality custom clothing at the most competitive prices. Our workwear, uniforms & range of custom clothing includes a FREE logo* & FREE delivery - we bring our customers the best value possible in Sussex when it comes to custom clothing. So if you are looking for great embroidered or printed clothing please browse through out huge online range or simply get in touch with us to see how we can help you enhance your image with custom clothing & branded clothing today. We have been providing our custom clothing, printing & embroidery across Sussex, Brighton & Eastbourne to a wide range of customers including clubs, groups & societies, businesses, marketing agencies, bands, festivals, schools, universities, sports teams and many more so you know you are with a business you can trust. So what are you waiting for check out our huge range of personalised clothing today and get in touch to see how Chameleon Designs, Sussex can help you with yours!
WE ALWAYS SEND DIGITAL ARTWORK FOR YOUR APPROVAL BEFORE GOING AHEAD WITH ANY ORDER
For more info on how Chameleon Designs can help your business with its printed & embroidered personalised clothing simply get in touch with one of our team directly via email on info@chameleon-designs.com or call 01273 814300
Opening times:
Mon - Fri 9am - 5pm
We are closed weekends
WE ALWAYS SEND DIGITAL ARTWORK FOR YOUR APPROVAL BEFORE GOING AHEAD WITH ANY ORDER
For more info on how Chameleon Designs can help your business with its printed & embroidered personalised clothing simply get in touch with one of our team directly via email on info@chameleon-designs.com or call 01273 814300
Opening times:
Mon - Fri 9am - 5pm
We are closed weekends